The Orthotics and Prosthetics Foundation for Education and Research (The O&P Foundation) and the American Board for Certification in Orthotics, Prosthetics, and Pedorthics (ABC) are proud to announce the recipient of the 2022 ABC Resident Travel Award.
Awardees are selected for their National Commission on Orthotic and Prosthetic Education (NCOPE) residency project and receive a $2,500 cash prize to attend the American Academy of Orthotists and Prosthetists (the Academy) 2023 Annual Meeting and Scientific Symposium in Nashville, Tennessee, March 1-4, to present their research.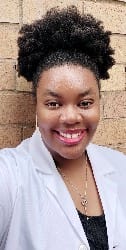 Bria Collins
Virginia Prosthetics and Orthotics
NCOPE DIRECTED STUDY:
Examining the Influence of Clinical Characteristics of New Transtibial Amputees on the Clinical Workflow for Prosthesis Delivery
The ABC Resident Travel Award Program supports prosthetic and orthotic residents' travel to the Academy Annual Meeting and Symposium so that they may present their NCOPE directed study or report. "The O&P Foundation is grateful to ABC for its sponsorship of this award and partnership in investing in future O&P practitioners," said Donald Katz, MHA, CO/L, FAAOP, co-chair of The O&P Foundation board of directors. "The O&P Foundation board of directors would also like to extend its appreciation to all who served as clinical and scientific reviewers for this year's submissions. Their guidance and support ensure that all applicants receive constructive feedback to help them grow further in their research endeavors."
About The O&P Foundation
The O&P Foundation was established to advance the art and science of orthotic and prosthetic rehabilitation by enhancing clinical practices through professional training awards, promoting educational opportunities through academic scholarships, strengthening the body of knowledge through research grants and fellowships, and inspiring excellence through the recognition of scholarly achievements. to learn more about The O&P Foundation, visit oandpfoundation.org.
About ABC
The American Board for Certification in Orthotics, Prosthetics, and Pedorthics is the comprehensive credentialing organization whose mission is to establish and advocate for the highest patient care and organizational standards in the provision of safe and effective orthotic, prosthetic, and pedorthic services. To learn more about ABC, please visit abcop.org.